Get qualified in Health Informatics
Benefits of the Diploma in Health Informatics (DipHI)
The Diploma in Health Informatics (DipHI) covers all you need to know and prepares you for a Master's level Health Informatics degree or change of career.
Formally accredited by the UK Council for Health Informatics Professions (UKCHIP), upon achieving the DipHI you will be accepted as an affiliate for four years (if you do not yet have any industry experience) or as a full member (if you have at least one year's experience in the industry).  Of value to international candidates in particular, UKCHIP membership fees are waived for HIC graduates for 1 year (Level 1) or 4 years (affiliate level) in recognition of your achievement.
You will receive an official signed, sealed and endorsed Diploma for your wall.
The right to add the letters DipHI to your name and the UKCHIP Registered Professional logo (Level 1 members) to your signatures and CV will be granted.
Prospective head hunters, recruitment agencies and internal HR personnel will be able to view your qualification online on our awards page

and

see your name listed in the UKCHIP register of professionals.
If you are already a member of any industry-related professional society (e.g. Physicians, Nurses, Dentists, Computer, Project Management), you will be able to present them with the official transcript of your academic record.  In most cases, this is more than sufficient evidence for the awarding of continuing professional development (CPD) hours or merits under the rules of those societies (though we do advise that you make enquiries with your professional society first).
Benefits of the Certificate in Health Informatics (CHI)
The Certificate in Health Informatics (CHI) will provide you with a solid introduction to Health Informatics without going into too much detail.  It is also accredited by UKCHIP and those that pass will be recognised with UKCHIP membership as described above, a formal certificate and an academic transcript for claiming CPD hours.  It is a shorter program than the DipHI and it won't prepare or pave the way to a Master's as the diploma program does but by the time you have completed it, you will know more about Health Informatics than those around you and you will know if you'll want to take it further.
How do the courses fit with Bachelor's and Master's degrees?
In academic terms you can equate HI101 at first year Bachelor's degree level, HI201 at second year Bachelor's and HI203 (our DipHI) as first year Master's or post-graduate.
Because this field is so new, most Universities offering a Health Informatics degree have focused on Master's level programs.  They tend to want their students to already have an under-graduate (Bachelor's level) degree (in healthcare or science and technology) and professional experience from 'time worked in the industry'.
Our materials and text books have been incorporated into core modules of tertiary education programs – for example, the Health Care Information Management & Systems module in the University of Kent's Master's of Surgical Practice (program now ceased) from 2000 to 2011.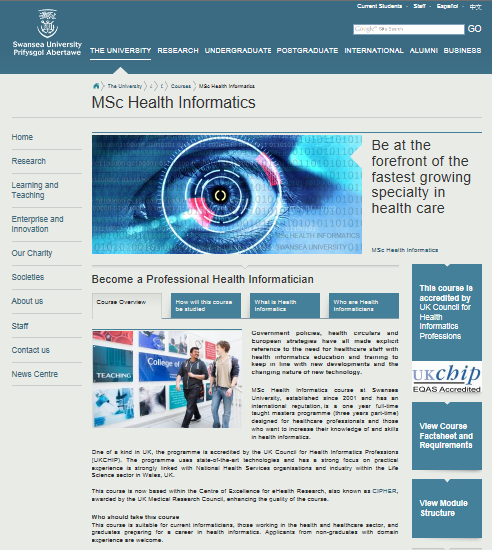 Others will provide cross-credits or accept our DipHI graduates as having the right to apply directly to their Master's programs without having attained a Bachelor's degree – for example, Swansea University's Masters in Health Informatics program which includes NHS and industry internships beneficial to international students and others who may not have ready access to NHS facilities – "those who have undertaken at least two years experience in any branch of health informatics and have completed the HIC diploma level course (DipHI) would stand an excellent chance of being made an offer of a place.  The HIC course is excellent preparation for studying health informatics at Masters level."   T Paget, Course Director – MSc Health Informatics, Swansea University College of Medicine
These institutions and many others are offering education that is the natural progression from our programs.
Our international students comprise newcomers through to seasoned professionals from 62* countries (* Jan 2014) who access the courses online from work and home when it best suits them.
The course content is predominantly from UK, Ireland, Canada, USA, Australia and New Zealand.
Yes, you will need to be able to read and understand English but you do not need to have perfect grammar and there are no time limits on the self-assessment questions or your general progress.
Extra benefits for executives and managers of healthcare provider institutions and suppliers to the Healthcare industry

If you are a Health Service manager you have the opportunity here to train all your staff for free.
On request, we can provide you with an official Evidence of Study report which is a summary of all time spent online, studying what, per staff member.  These reports are proof of your proactive action to train all your team in health informatics, information governance, the protection of patient privacy and confidentiality, health information ethics and risk management.  They are documentary evidence should this ever be needed, in support of an SUI (Serious Untoward Incident) or data breach defence and add value to the case your organisation can put towards negotiating more favourable clinical negligence assurance premiums.
If you are a supplier to the healthcare industry, we provide a range of services that facilitate access and exposure of your firm and its products to hundreds of our health informatics study participants past and present.  Participants opt-in to this process and benefit by receiving promotional materials, trial products and devices.  In return they provide you with informed feedback from the qualified health informatician's perspective and from their workplace.  Contact us to find out more.
Extra benefits for large corporate and higher education / University partners

Yes we work in partnership with large corporate clients, educational institutions and Universities all over the globe.  Our students bombard us with requests for information on where they should take their health informatics education to next so let us know what you have to offer.  If you're not yet providing health informatics as a course then Contact us and ask about our monthly licensing scheme, volume book discounts, exam question bank and comprehensive marking schemes.
If you want to receive an income from your education – an instant return on your investment – then you can.  Introduce a colleague or associate to www.health-informatics.co and ask them to enter your email address in the Affiliate's email field when they sign-up.  If they do that, you will receive 20% of their fees back to your paypal account – to the maximum amount you have paid.
If you live in the UK, Australia or New Zealand or you operate anywhere in the world as a business, there's no limit on what you can earn.  Contact us to find out more.
[fb_button]